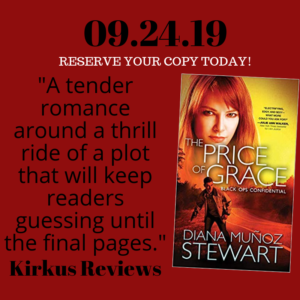 THE PRICE OF GRACE has received a stellar review from Kirkus!! Woot! So excited. Kirkus is thought of as one of the most highly respected publications that reviews books today. They don't review every book, so even getting a review is a big deal, but getting this FABULOUS review is a dream come true. I'm sharing the entire review below. The only change is that they used the old series name. The new name is Black Ops Confidential, but I'm not complaining! Don't forget to check out Kirkus for more top recommendations!
KIRKUS REVIEW
"The second installment of the sexy and suspenseful [Black Ops Confidential] series pits a vigilante computer whiz against an FBI agent with a grudge.
Bullets are flying when Gracie Parish and Leif "Dusty" McAllister meet in the middle of a covert operation to dismantle a sex-slave operation in Mexico. The attraction is instant, but the more they get to know one another, the wider the gap between them seems. Adopted as a child by the Parish family and raised to fight injustice as a member of the League of Warrior Women, Gracie is conflicted about the heavy price exacted by the vigilante lifestyle. She's already lost a husband and child to Parish family secrets and wonders what life would be like if her front as a club owner were really her full-time profession. Dusty's abusive childhood at the hands of a cult leader did not endear secret groups to him. He wants to take the Parish clan down, but as he comes to know and respect his "helpful asset," he finds himself teetering on the "shaky edge of undercover morality." Muñoz Stewart (I Am Justice, 2018, etc.) skillfully questions the difference between loyalty and subservience, enculturation and indoctrination as she weaves a tender romance around a thrill ride of a plot that will keep readers guessing until the final pages.
Layered personalities, shifting motivations, and a smart, twisty plot push this thrilling romantic suspense series into high gear."
THE PRICE OF GRACE is available now for pre-order! Reserve your copy today!!