---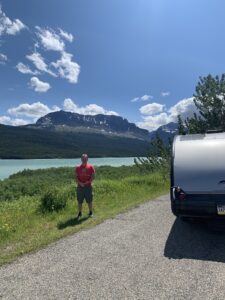 July has been an amazing month! Giveaways galore as I traveled for the first two weeks across the country with my husband and my teardrop trailer. We visited Mount Rushmore, Wind Cave, Mount Rainier, Glacier, and Olympic National Park. I joked about how I couldn't get on the grid to save my life, but that was really the point. I have to admit it was fun.
One of the nights hubby and I stayed in the trailer in South Dakota, there was a horrible storm. From the comfort of our little trailer, we watched lightning play across the night sky. And we talked about all the things we never get a chance to talk about as a busy couple. Silly things. Important things. Just things. Turning off the demands of the world and tuning into the natural world created an ease and feeling of spaciousness. It was fantastic fun. Especially when we reached the end of our week-long trek and met up with the rest of my family in Washington State. We spent our second week there doing all things outdoorsy. Here are some photos. Sorry they're blurry. I have to remember to clean my lens when I'm wearing sunscreen!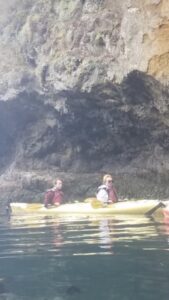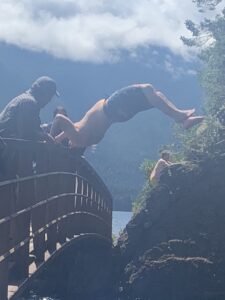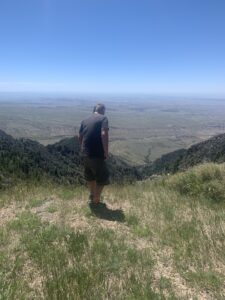 Even though we had a ball, I have to admit it's fun to get back to work. I like my writing community. I like my reading community. I like the creativity and friendships that have developed along this publishing journey. I like my job.
So days after arriving back home, I was off to Thrillerfest where I conducted a panel on tension in thrillers. I also signed the first book in my series, I AM JUSTICE. And guys, this gives me such a kick, I signed in the same room with my mother-in-law, Patricia Gussin! We are both thriller authors, but she's medical and I'm romance. It was amazing fun to be able to sign alongside a woman I so greatly admire.
And this is another kick, after my panel, my mother-in-law, Patricia Gussin, moderated the next panel. So we did back-to-back panels and signed our books together. So cool! She's written way more books that me! Check them out! I had a great time at Thrillerfest. I'm usually nervous on panels, but this one was easy. The moderator did a fantastic job of keeping things moving and asking questions relevant to the topic.
After Thrillerfest, I was involved in some publishing talks and then it was home for a couple days, before I treked back to NYC for the Romance Writers of America convention. Wow! What an amazing week in romance, capped off with the RITA awards. The ceremony was a phenomenal success. I adore the women of RWA. The writers of this organization are incredibly supportive, knowledgeable, and driven. The readers are enthusiastic and smart and engaged.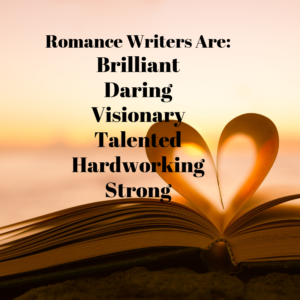 This graphic above works just as well for romance readers. I love you guys! Which is why I loved my giveaway extravaganza. It's been so much fun holding contests and interacting with everyone as I made my way across the country. Thanks to everyone who signed up for my newsletter and followed me on BookBub and who just came to my author page to hang out. I have met so many wonderful people in real life and online! I have one final giveaway for July, and it is a doozy!!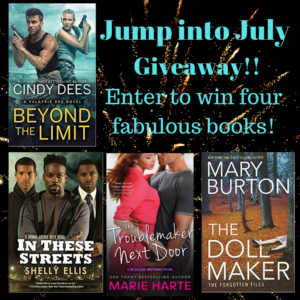 Jump into July Giveaway includes four books, THE TROUBLEMAKER NEXT DOOR (The McCauley Brothers) by Maria Harte, BEYOND THE LIMIT (Valkyrie Ops) by Cindy Dees, IN THE STREETS (The Branch Avenue Boys) by Shelly Ellis, THE DOLL MAKER (Forgotten Files) by Mary Burton. And the winner of this giveaway is Nissa Marquart!! Congratulations, Nissa! Check your inbox for my email. You have three days to reach back out to me, before I pick another winner.
As always, if you didn't win don't be sad, because you already have another chance to win and another and another. Since August is the final month before my release month, I'll be holding three new giveaways!  I'll be announcing these giveaways in my newsletter, so make sure to open that sucker to find out what I have in store for you next month!!
I'll also be sharing some exclusive content for my newsletter subscribers, so keep an eye out for this month's The Shady Lady Report!
Less than two months until the release of the second book in my Black Ops Confidential series!! Can't wait!