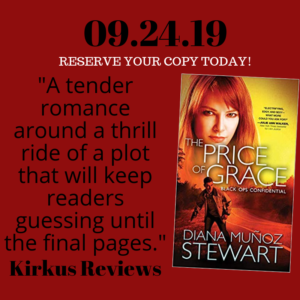 August is here!! I'm so excited for this month's giveaway, and not just because that means we're getting closer to the release of the second book in my Black Ops Confidential series. But, yeah, THE PRICE OF GRACE  is out on Sept 24th!! And if you haven't heard the big news yet, THE PRICE OF GRACE received a stellar review from Kirkus!! Woot! So excited. Kirkus is one of the most highly respected publications that reviews books today. They don't review every book, so even getting a review is a big deal, but getting this FABULOUS review is a dream come true. You can read all about it HERE.
And that leads me to the purpose of this post! Announcing the Summer Sun and Suspense Giveaway! I have three giveaways of three suspenseful series for August. I'm giving away all three books in Elizabeth Dyer's Somerton Security series in the first giveaway. In the second, all three books in Katie Ruggles' Search and Rescue Brotherhood series. And in the third, I'll be giving away all three books in The Bobbi Logan series by Renee James. I'm so excited to share these wonderful series with you guys!! And with each giveaway, I'm going to do a blog post about each author, so you'll get to know a bit about them too.
Now, if you're keeping track, that's three giveaways in August for all of my newsletter subscribers. Sorry, only my newsletter subscribers are eligible for these giveaways. If you're not a newsletter subscriber, there's an easy fix. Sign up for my newsletter HERE.
I love these giveaways, because I get a chance to give back to readers. But  I'm not the only author who appreciates and wants to show readers our appreciation. That's why me and a bunch of other authors are throwing a reader appreciation party, and you're invited!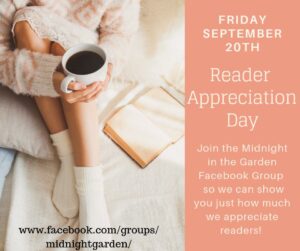 I'll be one of many, many authors who will be appearing in The Midnight in the Garden Readers group on Sept 20th to hand out books and prizes, play games, and get to know all you wonderful and devoted readers. The event takes place online, inside the group, so you don't have to go anywhere. You do, however, have to be part of the group. No worries. All readers are welcome, and you can join the group HERE!
I really hope to see you there!