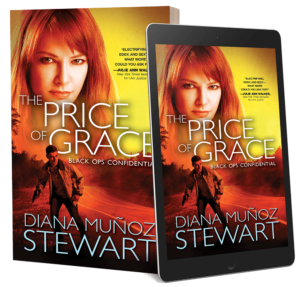 It is now only three months until THE PRICE OF GRACE releases out into the wide world! So excited. As an author, I love to create ads, videos, and all kinds of visual inspiration for each of my novels. Collecting photos and sharing them in boards on Pinterest is the kind of fun I don't seem to have enough time for.
Trust me, I can get caught up looking at hot photos trying to capture the male or female leads in my WIP (work in progress). I do give myself permission to gather photos for ads and to use as a book trailer. Selling a book requires marketing. So I tell myself. And I absolutely love making book trailers, but I suck at them. They are slow and stilted and…well, that's why I had to hire someone.
For I AM JUSTICE, my first book trailer, my brother suggested a digital artist. Problem, he doesn't speak English. And my Spanish, unlike my brother's, is….uhm, un poco. Okay, saying I have a little Spanish is being generous. Although I spent my early years in a Spanish speaking household, after my parents divorced and my mom remarried, little Spanish was spoken at home.
When I was around relatives, I loved to sit and listen to them speaking in Spanish, but I picked up little. Excluding curses. I'm still working on learning to speak Spanish that doesn't make barflys blush. My brother, knowing this, jokingly told me when he introduced me to the designer, "You said you wanted to learn Spanish." Hardy har har.
I thought I wouldn't learn anything doing a few emails, but I kind of did. Enough that I can read what the designer writes to me without using Google Translate. As you can imagine, the hardest part of creating a book trailer is condensing your story down to a few words and a few photos. Doing that in two language is a bit more of a challenge. But I think this trailer for THE PRICE OF GRACE actually came out great. I'd love your opinion! Below is trailer. Watch and enjoy. After, if you want, you can read the synopsis and tell me if the video gets the story across. Thanks for your help, my darlings!!
Keeping secrets is her job. Uncovering the truth is his. But his dogged quest for answers stirs up something a lot more dangerous than the truth.
A highly trained operative in the Parish family's secret society of vigilantes, Gracie Parish learned a a long time ago what happens when you fall in love and reveal the family's dark secret. Now, she keeps her mouth shut and trusts no one.
Special Agent Leif "Dusty" McAllister will do anything to expose the Parish family's covert operations. And he believes Gracie is his ticket in. He'll use everything he's got—fair, unfair, and so-good-it's-wrong—to penetrate her defenses and prove his case.
Even as the red-hot attraction between Dusty and Gracie heats up, his investigation ignites a deadly new threat. They'll have to decide quickly how far they can trust each other, because now it's not just Gracie's vigilante lifestyle in jeopardy. It's her life.
Hope you enjoyed this trailer! And, yes, I know there's a typo. Didn't spot it? Maybe you need to watch the trailer again.
---
HOW TO ENTER A GIVEAWAY!
I'll be running giveaways throughout the year. If you'd like to take part, here are a few ways to enter to win!
To be entered to win one of four $25 Amazon Gift Cards that I will be giving away in July, sign up for THE SHADY LADY REPORT! And don't forget to like and visit my Facebook Page for other contests and to see if you've won!
To be entered for every contest I run this year, sign up for THE SHADY LADY REPORT!
To be entered to win a $100 Amazon gift card follow me on BookBub