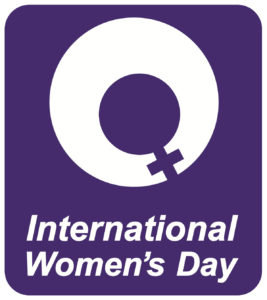 It's International Women's Day (IWD)! That means that we get to spend a whole day in the beginning of Women's History Month and toot the horns of the women we love.
And we do love the stuffing right out of them.
The theme this year is #BalanceforBetter. As the International Women's Day website says, "A balanced world is a better world." Sure is. There are a lot of cool things on that website, so be sure to check it out.
As I write this post for IWD I am listening to a mix of the best women soul artist as decided by Natasha Watts on BBC.com. You need this music in your life. It's the perfect background to bring you some of my favorite inspirational stories about women that are sure to make your day brighter. First up a spacewalk–so jealous of these women!!
The first all-female spacewalk will take place during Women's History Month (Yep, women have taken over the Earth and space this month.) "Anne McClain and Christina Koch will venture out together about 240 miles above Earth and make history." But that's not all! According to Kayla Epstein of the Washington Post, "Mary Lawrence will serve as lead flight director, and Jackie Kagey will be the lead spacewalk flight controller." Read More
Wangari Maathai started The Green Belt Movement in the seventies. Before her passing in 2011 she was a tireless advocate for the environment. Her dedication to the planet started a revolution of tree planting, and her advocacy for the Earth was way ahead of its time. What she began continues to grow strong in encouraging conservation and restoration of trees in Africa. As she says in the Youtube video below–a must watch–"The environment is an everyday issue. It's the air we breathe. The food we eat." Wangari Maathai was a green superhero who did not mince words. She leaves behind a legacy that continues to benefit each and every one of us. LEARN MORE 
The Girl Who Was Never Meant to Survive  is a heart-warming story that sprung from a disturbing trauma. Haven Shepherd, a young Vietnamese girl, survived a horrible bomb murder/suicide. She should have died in this horrific explosion, but miraculously survived. Adopted by a big U.S. family she went on to become a fierce, competitive Paralympian. READ MORE.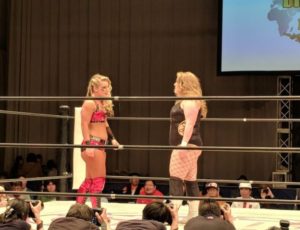 If you've watched Glow on Netflix, you're going to love this story about a real-life Scottish female wrestler, Kimberly Benson ring name Viper. This isn't your typical super-model turned wrestler. Kimberly loved wrestling as a child, but it wasn't until a friend told her about a local training center at 16 that she even imagined she could take part in the activity she loved. Her quest didn't come without trials. As Kimberly explained when interviewed on BBC.com, "It was difficult for me because I'm a girl and because I'm a big girl." Kimberly did't let other people's opinion stop her from going for her dreams.  READ MORE or watch a video HERE.
If you've ever visited the Activist page on this website–and why haven't you?–you might have read about, author, activist, and Nobel Peace Prize winner Leymah Gbowee –a Liberian, mother who works to educate and inspire West African girls through the Gbowee Peace Foundation. Her wonderful organization expanded in December of last year and launched a Peace Hub to inspire and empower women and girls. According to the article written by Judoemue Kollie and published in the Daily Observer,  "…the building will be the home of the first technical education and training institute for women and girls. The academy will provide practical training, mentorship and internship for women and girls in the areas of vocational and technical education." READ MORE
A National Women's History Museum is set to open in Washington D.C. in 2020! This museum will be, "…the first museum in any nation's capital to show the full scope of the history of its women and will serve as a guiding light to people everywhere. " They already have a wonderful online archive and a pretty cool Facebook page too. According to the museum's website, "Our mission is to tell the stories of women who transformed our nation. We will do that through a growing state-of-the-art online presence and a future physical museum to educate, inspire, empower, shape the future, and provide a complete view of American history." LEARN MORE
On Wednesday Sept 26th, 2018  the citizens of NYC were in the hands of a kick-a** all-women fire fighting company. It was the first time in the department's 153 year history that that had happened. And that's not all the good news in the fire fighting world. The number of women who serve as firefighters has been increasing since 1982 when the first women were sworn in. Read the details in the article. Seriously go for the photos. Very cool! READ MORE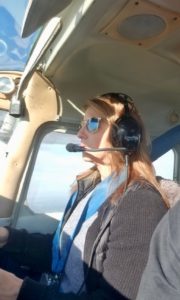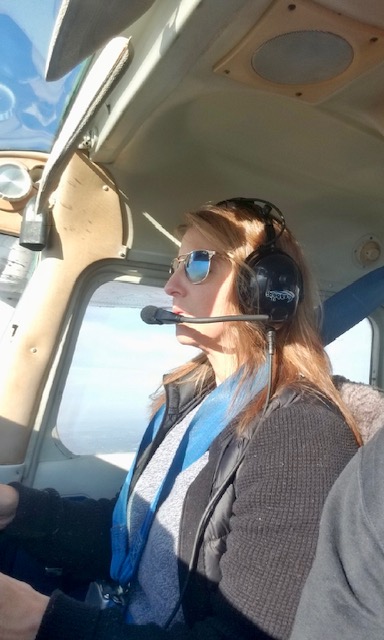 Captain Marvel movie looks great, but I recently learned that trolls had brought down the movie's ratings. That didn't seem to hinder its opening weekend. I'm glad the movie is doing so well. The film is inspiring. Not just for me, a pilot-in-training, but for  the U.S. Air force, who leveraged the movie and IWD to put out a video celebrating the cool women who fly planes, including fighter jets.  I found the article about these pilots on a site you should visit. It's an addicting site called Women You Should Know . So this entry is a two-for. Or maybe a three-for–cool looking Captain Marvel movie, cooler fighter pilots that also happen to be women, and a neat new website for you to check out. READ MORE  
I love when I find new organizations formed by women to help women. Visionary Women is an organization dedicated to empowering and helping women be financially successful. It also delves into spiritual and other issues near and dear to many women's hearts. According to their own website they are, "a non-profit organization, harnesses the power of leadership and community to embolden women to achieve their full potential. By creating a forum for connection and dialogue with the world's greatest thinkers. We're challenging convention and advancing the status of women in all spheres of society." There is a lot of reason to celebrate this organization that is oriented toward helping women globally. One of my favorite is the helpful and inspiring videos found HERE.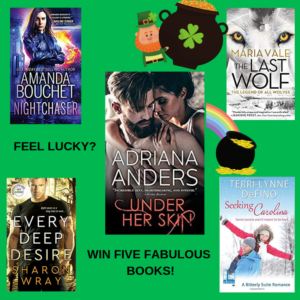 Want more good news about women? There's still time to enter my giveaway of five books written by five of my fun, fabulous author friends! The books are: Seeking Carolina by Terri-Lynne DeFino, Under Her Skin by Adriana Anders, The Last Wolf by Maria Vale, Every Deep Desire by Sharon Wray, and NightChaser by Amanda Bouchet. Sign up for my newsletter and you'll be automatically entered.* Good luck!
*Must be 18 and in the U.S. to enter.