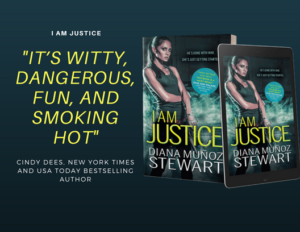 I'm so excited about this!! BookPage has chosen I Am Justice as a top pick for May, 2018!! Squee!! I'm not sure I can express how incredibly happy it makes me to find readers who love my novel enough to recommend it to others. It has been an amazing journey, a long but amazing journey, to getting published and nothing makes me happier than knowing people enjoyed my efforts. And, of course, the efforts of my team at Sourcebooks! If you have a book to sell, you can't go wrong with this wonderful publisher. Sourcebooks Casa is made up of an absolutely dynamic and inspiring and intelligent group of people! Below is the review from BookPage.
TOP PICK IN ROMANCE
"Romantic suspense doesn't come more lethal than I Am Justice by Diana Muñoz Stewart. Justice Parish, her mother and her sisters have a mission—to save vulnerable women from evil men. Using her adopted family's enormous wealth, Justice works to stop sex traffickers all over the world. To that end, she meets up with ex-Special Forces soldier Sandesh Ross, who runs a humanitarian group that will be a useful cover for Justice's latest mission. Conflict arises when Sandesh—who's done with fighting—clashes with the sometimes impulsive and always aggressive Justice. But their blazing attraction keeps them together, and Sandesh can't argue with the righteousness of her cause. The action bounces from Philadelphia to Mexico to Jordan and back again, and readers' pulses will race alongside those of Justice and Sandesh as they face gunfights and rescue Syrian refugees and young girls from slavery. An intriguing premise, a cast of strong characters unwilling to back down and black-hearted, deserve-to-die villains make I Am Justice a winning start to an exciting new series."
If you haven't yet, you can pre-order I Am Justice here. Thanks to everyone for your continued support. You guys are the best!