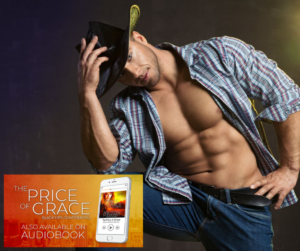 It's October!! That means it's time for pumpkins and prizes with my Fall Into Books Giveaway!! But first…
A huge thanks to everyone for your amazing support and excitement over the release of the second book in my Black Ops Confidential series, THE PRICE OF GRACE. And I thought it was fun before the release!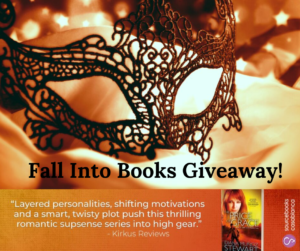 Actually, it was fun. I had a ball giving away two books a day for nineteen days during The Countdown to Release Day Giveaway. I found so much joy in getting to know all of your by sharing our love of books.
I'm definitely going to do another countdown to release in November for the third and final book in the series, THE COST OF HONOR. Stay tuned for that!
It's been so much fun sharing Gracie and Dusty's story with all of you. I'm so humbled and grateful for all of the positive reviews. And I love how enthusiastic readers have been about Dusty's charm and humor in THE PRICE OF GRACE. As Jessica on Goodreads said, "Dusty's Southern charm really did it for me."
Aw, thanks kindly.
If you've followed the series, you know that each book focuses on a different Parish sibling and a romantic partner. In the first book, it was Justice and Sandesh. In book two, it's Gracie and Dusty. And in book three, it's Honor–no, she's not a Parish sibling but…. Wait. Did you read book two? If not, skip this next bit and go down to where it says CONTEST ANNOUNCEMENT.
*********SPOILER BELOW ONLY READ IF YOU'VE READ THE PRICE OF GRACE************
Only read this section if you've read book two. Like I was saying the third book, THE COST OF HONOR, out Nov 26th, focuses on Honor, not a Parish sibling, and Tony, a Parish sibling. I know. I know. You thought Tony was dead and now he's pulling a Gandalf.
Below is an EXCLUSIVE excerpt of what Tony tells Honor about why he ran way. This is in book three, when she comes to visit him in the hospital–after she pulled him from the ocean during a kiteboarding incident.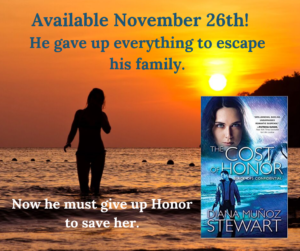 "A squawk from the hall announced visiting hours were over. Tony watched as Honor's gaze dipped to his bicep, to the tattoo revealed beneath his hospital gown. "And your tattoo, 'One for all.' Like the Three Musketeers. Does it have meaning beyond that?"
"It means my life for others. Used to be my motto."
"Not anymore?"
He wished she hadn't asked. She had. And the way he was feeling right now, grateful and turned on and fuzzy enough in the head that this whole conversation felt surreal, he told her. "I told you, I ran away from home. So I guess I'm looking after myself, making myself number one for a while."
To his surprise, she didn't frown or accuse him of being a totally selfish prick. She looked him in the eyes. "You say that like you're admitting a crime. You feel bad about it?"
Shit, yeah, he did. "That's not the way I was raised. I was raised to care. I do care."
"So why leave?"
Head pounding, he ran his fingers over his goatee. Every day, he woke up with this feeling of guilt. His stomach turning with the wrongness of it, of not doing what he was good at, what he could to help. "It wasn't really my choice. It was go or lose my mind."
Unbeknownst to Honor in that scene, Tony means it quite literally.  M-erasure is something the Parish family developed as a way to wipe the memories of people who pose a threat to their secret society.
So what happens to Tony? Does his family find him? You'll have to read the book to find out! Only a few weeks now. But if you'd like to read the scene where Honor rescues Tony from the ocean, you can do that HERE. And if you'd like to know just how Tony was able to mess with Dusty's mind–you did read book 2, right?–then keep an eye out for my October newsletter. I'll be posting that scene, also from THE COST OF HONOR.
**********************CONTEST ANNOUNCEMENT***********************
My October giveaway and newsletter is going to be full of books!! Two series with three books. I'm going to give away Nora Roberts The Cousins O'Dwyer Trilogy including, DARK WITCH, SHADOW SPELL, and BLOOD MAGICK trilogy. And the Harrison Investigation series by Heather Graham that includes, HAUNTED, GHOST WALK, and VISION. Yes. It's a Halloween theme!  To be entered into the contest, sign up for my newsletter. If you're already signed up, you're already entered! Good luck in the contest everyone!!