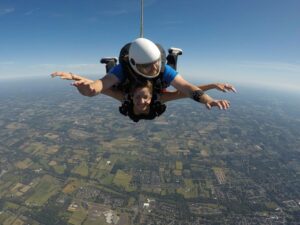 This picture, and the video below, is proof that, after two failed attempts, the third time is a charm. It seems appropriate to me that I'd have a successful skydiving jump on the weekend before the second book in my #1 Amazon bestselling series came out. Because, just like with my skydiving attempts, I've had some delays with this series. Remember when it was called Band of Sisters?
No?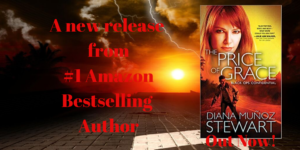 Good. Forget you heard that! It's been a nightmare trying to erase every instance of that old series name from the Internet. It's actually, impossible. I just saw a Publishers Weekly review of The Price of Grace where the old series name and old title was used. Ach y fi, as Sion in my Black Ops novellas, The Edge of Obsession, would say. If you haven't read the novella yet, sign up for my newsletter to get a free copy!
Why all the delays and name changes? Most of it has to do with marketing, but some of it has to do with the market. As a writer all of this matters to me. Story. Marketing. Market. Advertising. And it's been a really interesting year since I Am Justice was released in May of 2018. I've learned a lot. Someone asked me if I was disappointed in the delay, and you know what, I'm not. I'm incredibly grateful to my editor, Cat Clyne and my team at Sourcebooks Casa for making the right call with this series. More than that though, I've been able to take this year and connect with readers. That was the thing that was missing from the release of my debut novel.
Now I feel connected and part of a wider reading community. I've made friends with the most amazing group of supportive readers on my page and with so many other wonderful authors.
It's thrilling to have another book out in the world. And it blew me away to be able to hear the talented Emily Sutton Smith read The Price of Grace.
So today the second book in my series drops. Let's hope I enjoy this ride as much as I did my jump from a plane at 12,000 feet!
✔️Amazon: https://amzn.to/2I4CHB9
✔️Apple: https://apple.co/31LMJiX
✔️Nook: https://bit.ly/32DFlqZ
✔️Kobo: https://bit.ly/2mtrVNP
✔️Google: https://bit.ly/2kM4b7c