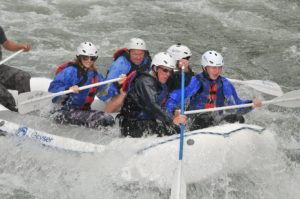 After an amazing week traveling across the country, even popping up into Canada for a night, I arrived in Montana last week and met up with my wonderful extended family. We've spent the last week hiking, hanging out, laughing, and even went white water rafting. I absolutely loved white water rafting. Can't believe I've never tried it before. And to top off this wonderful vacation–heading home tomorrow–I found out today that I AM JUSTICE has been chosen as a top 15 romance novel of 2018!! Yay!! I'm so thrilled to be included among so many wonderful authors. I've quoted the BookPage article below:
I Am Justice by Diana Muñoz Stewart
So much of romance derives its power from wish fulfillment. How nice it would be to wear pretty dresses and go to fabulous parties, yes, but also how nice it would be to exist in a space that values women's voices and women's pleasure above all else. I Am Justice has all of that, plus women punching sex traffickers in the face. Justice Parrish is the type of swaggering, wise-cracking, impulsive action hero that women so often aren't allowed to be, and watching her take down misogynist bad guys and romance a handsome ex-soldier is supremely satisfying.
How cool is that? And the rest of the top picks are just as awesome, so please check them out! I'm already making my way down this hot list of romance novels. If you haven't yet, you can purchase I AM JUSTICE here!
*edited: I AM JUSTICE was chosen one of the top 15 romance novels of the WHOLE freakin' year! ALL of 2018! Originally I had written it had been chosen one of the best books of the summer (So far.) Honestly, I'm not sure how I made that mistake. Okay. I am. Writer-doubt. My writer-doubt mind wouldn't let me see it, see that kind of recognition. I shut it out. It took a good friend reposting with the correct information to allow me to see it. So I'm correcting it now. I AM JUSTICE was chosen by BookPage as one of the top 15 romance novels of 2018 (so far)! Wow.