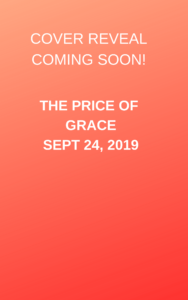 Today is the day! I'm revealing the cover for the second book in my Black Ops Confidential series, THE PRICE OF GRACE. This cover is everything I could've hoped for. And I'm a sucker for a good book cover. I know, I know, don't judge a book by its cover. And I don't. Not wholly. I'll read inside to make sure the cover that has grabbed my attention is for me. But there's something about when an image on a book cover speaks to you, captures some longing in your soul. It's like the image says to you, "I've got you, babe."
Thanks, delicious book cover. I heart you.
I'm a huge fan of Dawn Adams, the book cover designer over at Sourcebooks Casablanca. She's amazing. I've heard other people say that they had ZERO input on their cover design. I feel so lucky. Dawn listened and produced three amazing covers for my series. With each, she gave me exactly what I asked for. Which is a good reason for an author to know the market! The direction of my series book covers changed this year.  I'm so freaking excited to share my new cover with you! But why should mine be the only cover we ogle today? It shouldn't. So I'm posting a random number of romance book covers in random order for you to swoon over.
First up, AFTER THE GOLD. I love figure skating. Love it! There is something about the dresses and the dancing and the constant threat of danger. What if she falls?! And this cover on Erin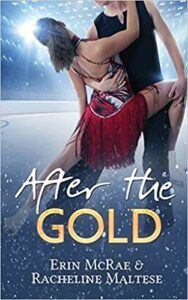 McRae and Racheline Maltese's book is so cool. (Sorry.) It's full of passion and heat despite all that cool ice. And I love the lights overhead. These aren't people who are dancing at the local rink, these are performers. And this is going to be a story about ice performers. I've always been curious about the men and women who dance couples figure skating. Are they a thing? Well, not in this instance, but they want to be. All that sexual tension is in this cover. Swoon. Here's a book description gently lifted from Amazon:
"For over a decade, world-champion ice skaters Katie Nowacki and Brendan Reid have been partners in every way but one. But now that their electric on-ice chemistry has led them to Olympic gold, they're retiring from competition.
As they cross America on an exhibition tour with their fellow athletes, Katie and Brendan's always volatile relationship becomes more turbulent than ever as they face down the media, their fans, and their increasingly nosy teammates.
When Katie realizes she wants to go back to the farm she grew up on, Brendan knows he has one last chance to make sure their fairy tale ends with happily ever after." BUY LINK.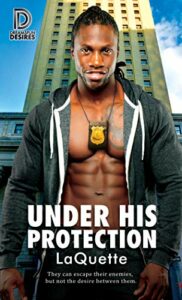 I've recently been introduced to the dynamic work of LaQuette, and though I've fallen for a couple of her covers, the one for UNDER HIS PROTECTION grabbed my attention and wouldn't let go. This man is so beautiful. So sexy. Is there something else in the picture? A building, you say? Where? Admit it, it you missed it too.
I'm super excited to put this too hot to handle book on my TBR. You should too! It's out April 16th. Seriously, even if you never read the book, and you should, you'd be happy having this on you shelf just to stare at. I love how Lieutenant Elijah Stephenson, aka too-handsome-for-words Stephenson, has the cutest smile on his face. Like he's going to make you breakfast the next morning. And that casual flashing his abs and his badge thing…. Stop. You're seriously killing me. Who wouldn't want to be under his protection?
"Prosecutor Camden Warren is on the fast track to professional nirvana. With his charm, his sharp legal mind, and his father as chief judge in the highest court in NY, he can't fail. Nothing can derail his rise to the top… until an attempt on his life forces him to accept the help of a man he walked out on five years ago.
Wounded in the line of duty, Lieutenant Elijah Stephenson wants to ride his new desk job until retirement—not take a glorified babysitting gig with more risk than it's worth… especially not protecting the entitled lawyer who disappeared after the best sex of their lives.
The threat against Camden's life is real, but their passion for each other might prove the greatest danger they've yet to face." BUY LINK
If you're read I AM JUSTICE, you know I'm all about having a kick-butt woman on the cover. And the woman on the cover of SHADOW BLADE by Seressia Glass manages to look both dangerous and sexy. It's the leather pants and dagger at her hip. So very cool. She looks like a woman on a mission. A woman that can handle whatever comes her way. And whatever is coming her way isn't going to be your average issue. She's not dealing with late car payments. She's taking on something sinister. That most definitely appeals to something inside of me. I love this story. It hooks you from the prologue. It's the first of three, and all the covers have the kick-butt woman theme.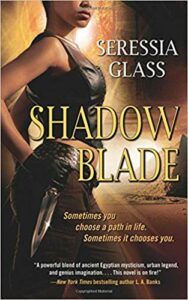 "Kira's day job is as an antiquities expert, but her true calling is as a Shadowchaser. Trained from youth to be one of the most lethal Chasers in existence, Kira serves the Gilead Commission, dispatching the Fallen who sow discord and chaos. Of course, sometimes Gilead bureaucracy is as much a thorn in her side as anything the Fallen can muster against her. Right now, though, she's got a bigger problem. Someone is turning the city of Atlanta upside down in search of a millennia-old Egyptian dagger that just happens to have fallen into Kira's hands.
Then there's Khefar, the dagger's true owner — a near-immortal 4,000-year-old Nubian warrior who, Kira has to admit, looks pretty fine for his age. Joining forces is the only way to keep the weapon safe from the sinister Shadow forces, but now Kira is in deep with someone who holds more secrets than she does, the one person who knows just how treacherous this fight is. Because every step closer to destroying the enemy is a step closer to losing herself to Shadow forever…." BUY LINK
If you've been around my blog at all, you know I have a mad crush on Cindy Dees. It's not just Cindy. It's also the cover on SPECIAL FORCES: THE RECRUIT (Mission Medusa). I love this cover so hard. It features a man and woman. Both tough. Both determined. Both beautiful. They are balanced pair, have each others backs, and stand together. This is how relationships should work. It's what I try to accomplish with my Black Ops series. And though the woman doesn't have a weapon in her hands, you know that she can whip out some powerful fighting moves just by the way she is standing. Yep, I've already pre-ordered.
Here's what Cindy had to say about the Medusa series when I interviewed her for my blog. I asked her why she was coming back to it after all these years.
CD: "I never wanted to leave the Medusa series in the first place. The marketing department at Harlequin told me that women only wanted to read about strong men and made stop writing Medusa stories.
The decision to revisit them came from Harlequin as well. I got a phone call last summer from my editor, out of the blue, asking me if I'd like to stop everything I was doing for them and write three new Medusas stories as fast as possible. I'm absolutely certain the #metoo movement was the reason for that call. All the major publishers were looking for ways to write about strong, independent women in control of their lives. I don't know how it went down at the actual marketing meeting, but I envision someone leaning forward over their cup of coffee and saying, "Didn't we have some stories about kick-butt women a few years back? What was that series again?"
Here's the description: "Years of intense training have prepared Tessa Wilkes to become a Medusa—part of an elite, women-only Special Forces team. But all the mental prep and physical training in the world can't prepare her fully to take on one of the world's most dangerous men. The ultimate operative, Tessa teams with trainer Beau Lambert to track her target, but even if she survives, will her heart?" PRE-ORDER LINK
How gorgeous is the cover of A DUKE BY DEFAULT (Reluctant Royals) by Alyssa Cole? The evening blue in the background, the hot man dressed so causally–even though he's apparently a duke–and the equally hot woman in his arms. Well his hands on her waist. So sweet. And the way her mouth is angled toward his…you can feel this moment between them. And if that's not enough, I want that dress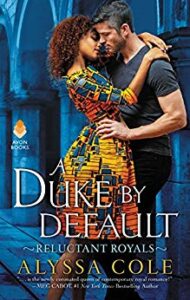 she has on. It is gorgeous! NPR, Bookish, and Bookpage all picked this book as one of the top books of 2018. Once you've read the synopsis below, you'll understand why. I'll admit this is one of those books where I purchased the digital copy and the audio. So that I can listen in the car where I left off from in the book.
"Award-winning author Alyssa Cole's Reluctant Royals series continues with a woman on a quest to be the heroine of her own story and the duke in shining armor she rescues along the way…
New York City socialite and perpetual hot mess Portia Hobbs is tired of disappointing her family, friends, and—most importantly—herself. An apprenticeship with a struggling swordmaker in Scotland is a chance to use her expertise and discover what she's capable of. Turns out she excels at aggravating her gruff silver fox boss…when she's not having inappropriate fantasies about his sexy Scottish burr.
Tavish McKenzie doesn't need a rich, spoiled American telling him how to run his armory…even if she is infuriatingly good at it. Tav tries to rebuff his apprentice—and his attraction to her—but when Portia accidentally discovers that he's the secret son of a duke, rough-around-the-edges Tav becomes her newest makeover project.  
Forging metal into weapons and armor is one thing, but when desire burns out of control and the media spotlight gets too hot to bear, can a commoner turned duke and his posh apprentice find lasting love?" BUY LINK
HATE TO WANT YOU (Forbidden Hearts) by Alisha Rai is one of those covers that is so stunning it takes your breath away, tells an entire story, fills you with longing. And don't forget that title!! It's not just beautiful it's clever and satisfying.  An Amazon Best Book of 2017, this book looks like a wonderful start to an amazing series.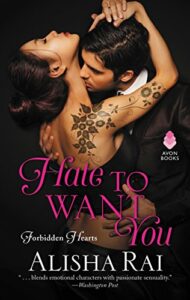 "One night. No one will know.
That was the deal. Every year, Livvy Kane and Nicholas Chandler would share one perfect night of illicit pleasure. The forbidden hours let them forget the tragedy that haunted their pasts—and the last names that made them enemies.
Until the night she didn't show up.
Now Nicholas has an empire to run. He doesn't have time for distractions and Livvy's sudden reappearance in town is a major distraction. She's the one woman he shouldn't want . . . so why can't he forget how right she feels in his bed?
Livvy didn't come home for Nicholas, but fate seems determined to remind her of his presence—and their past. Although the passion between them might have once run hot and deep, not even love can overcome the scandal that divided their families.
Being together might be against all the rules . . . but being apart is impossible." BUY LINK
Which brings me to the cover reveal for THE PRICE OF GRACE!! I love this cover so much!! Dawn did amazing job of capturing the heat and danger in this book. As Publishers Weekly said it's, "a high-octane installment" and a "satisfying roller coaster ride."  Like the book, this cover has all the heat. Gracie looks just like I imagined her. And Special Agent Leif "Dusty" McAllister walks the line between someone who could be good or bad news for her. Hint: He's good. It's kind of my thing to weave a story that has a surprise ending. So when Publishers Weekly said of this novel, "Very little is as it seems in this intricately plotted novel" I was over-the-moon! Yes. That's exactly what I wanted. I think you're going to love this book. It's out in September, but is now available for pre-order!
"Keeping secrets is her job. Uncovering the truth is his. But his dogged quest for answers might just get her killed.
A highly trained operative in the Parish family's secret society of vigilantes, Gracie Parish learned a a long time ago what happens when you fall in love and reveal the family's dark secret. Now, she keeps her mouth shut and trusts no one.
Special Agent Leif "Dusty" McAllister will do anything to expose the Parish family's covert operations. And he believes Gracie is his ticket in. He'll use everything he's got—fair, unfair, and so-good-it's-wrong—to penetrate her defenses and prove his case.
Even as the red-hot attraction between Dusty and Gracie heats up, his investigation ignites a deadly new threat. They'll have to decide quickly how far they can trust each other, because now it's not just Gracie's vigilante lifestyle in jeopardy. It's her life." PRE-ORDER LINKS 
Thanks for stopping by today. If you have any book covers you'd like to share, feel free to share them in the comments section!