My third month of a yearlong challenge to do something out of my comfort zone was a huge success! If you consider a new tattoo a huge success. And I do. Originally, I'd intended to take my Jeep off-roading for month 3, but my car needed a repair. (She's better now.)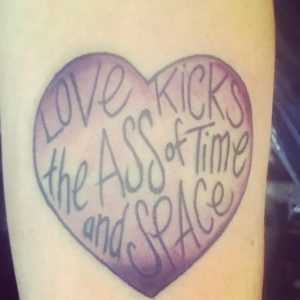 That's why–the morning before the last day of the month–I found myself toying with the idea of getting a tattoo. I've always wanted one, have told friends and family that one day I would get one, but I was a little afraid. It's permanent. Well, really hard to remove. You're basically marrying your tattoo. Or so I'd reasoned.
But I needed to do something. The month was running out. That's the cool thing about this challenge–it pushes me from excuses to action.
So that morning, I sat down to consider what kind of tattoo I should get. I sat with a cup of coffee and a book of poetry. This has become my routine of late. It used to be a cup of coffee and watch morning news, but that was giving me an ulcer. Poetry is much safer. And not to worry, I read plenty of newspapers.
I randomly opened up the book, A Year With Hafiz: Daily Contemplations by Hafiz translation by Daniel Ladinsky   Now Hafiz, a Sufi mystic from 700 years ago, doesn't fit into what some might consider a classic poet mold. His poetry isn't sad or stuffy or a reflection on the world's woes, it's filled with joy and irreverence and celebration. I love his poetry and Daniel's translations. The poem I opened to was translated as, I THINK WE NEED A PASSWORD. Follow the link to read it!
Here's where serendipity comes into play. Not only was the date above the poem, March 17th–my wedding anniversary–the last line of the poem read, "Maybe even tattoo that somewhere so you will remember."
Tattoo what, you ask? Well this line, "Love kicks the ass of time and space."
If you've ever read a good poem and "felt" it, you'll know what I mean when I tell you I had goosebumps reading that line. It reminded me that love is greater than all of our problems. That love transcends the boundaries that might separate us from people. (Yes, I am a romance writer. Nice to meet you.)
More fully though, this poem reminded me of my friend Terri-Lynne DeFino, who lost her son three years ago this summer. That line was what I knew to be true of the love between her and her son. Their love was alive. Their love transcended time and space.
I knew in that moment that I was supposed to share this poem with her. I also knew, in that way soul-sisters know, that it would mean as much to her as it did to me. So I sent her the poem via text with the message, "I found my tattoo."
Her response? Well, I'll let her tell you.
Knowing it would probably be a longshot for the tattoo artist to be able to get my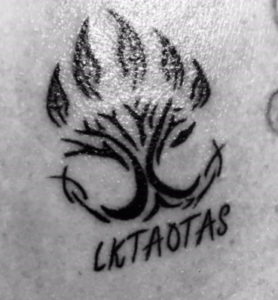 tattoo done before my cut-off date the next day, I went to meet with him. Sure enough, he said I'd have to come back on Monday. So I went home and tried to think of what else I might be able to do for my March challenge.
But when I woke up, the morning of the last day of the month, the tattoo artist had texted and told me he had an opening that day. Procrastinator's rule–sometimes shit just works out. A few hours before I was to get my tattoo, Terri-Lynne texted me the image on the right. Mind you, we hadn't discussed that we were going to get tattoos on the same day.  It just worked out like that.
So I did it! Month three complete. Am I sorry that I got the tattoo? Nope. Actually, the opposite. One thing I hadn't expected was for the tattoo to make me feel more like myself. It NEVER occurred to me that I wasn't fully myself. But the thing is when I got this tattoo, made a move to commit to words that felt real and strong to me, I was becoming more of myself. Maybe that's one of the best things about this challenge. Each time I do something that I've always wanted to do, each time I turn someday into today, I become more fully alive, more fully myself.