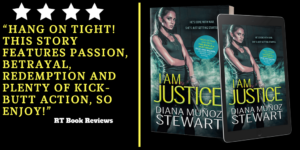 Publishing a novel has been thrilling and terrifying and a lot of hard work. Today has been one of the thrilling days. Love this review from RT Book Reviews! Only a few short weeks until I Am Justice  the start of the Band of Sisters series is out in the world!
I Am Justice by Diana Muñoz Stewart
Hang on tight! Diana Muñoz Stewart kicks off her Band of Sisters series with an action-packed thriller that races around the globe. The premise of this series is most fascinating, as it features a group of women who were adopted as girls by mega wealthy, recluse Mukta Parish. On the surface Parish Industries is very philanthropic, but it also functions as a vigilante group rescuing abused and enslaved girls. I Am Justice introduces Justice Parish, the "PR Specialist" who is driven by a need for vengeance. This story features passion, betrayal, redemption and plenty of kick-butt action, so enjoy!
To the world her job is a PR specialist, but Justice Parish is also a well-trained assassin, who works with her covert sisterhood (and adopted brother Tony) to take down sex-traffickers. In particular the sex-traffickers they have nicknamed "The Brothers Grimm." In order to get close enough to the brothers to take them down, Justice needs a good reason to be in Jordan. Former Ranger Sandesh Ross has formed a humanitarian group with other former military to help in war torn countries. When Parish Industries offers funding, Sandesh accepts, not realizing the ulterior motives attached to the money. However, when Justice's cover is blown and she is wounded rescuing a girl, Sandesh decides to assist. Now there are vicious killers on their tail, and to her horror Justice begins to suspect there could be a traitor in their midst. (SOURCEBOOKS, May, 384 pp., $7.99) RT Book Reviews
Sensuality: Hot
If this sounds like something you'd like to read, you can pre-order I Am Justice here. Thanks to everyone for your continued support. You guys are the best!