Today I was interviewed by the wonderful Cindy Dees, former pilot of the US Air Force and current NYT and USA Today bestselling author of 50 romantic suspense and epic fantasy novels. She's so cool! Basically, I was interviewed by super author. And the best part? Hold for it! She said she loved I Am Justice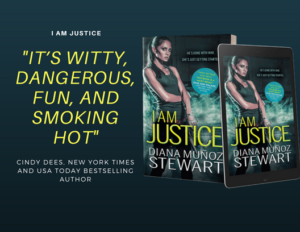 and read it twice!! ?
I was so nervous about being on the radio. What if I verbally tripped while walking across the stage? What if I accidentally burped? What if I laughed inappropriately? Actually, I kind of did. But Cindy was super sweet and made the whole experience so much fun.
A big thank you to Cindy. She is not only talented and open and funny, she has been super kind and supportive of me and my work. She provided the cool blurb on the left. Love the blurb!! And in addition to providing a blurb, she invited me to speak with her on the Author on the Air network and her show, Love in Uniform. If you'd like to hear me, what my voice actually sounds like–though I'm not convinced of that–click on the Love in Uniform link.
We talked books and flying and gluten free foods. So if you have an interest in any of those things, you should definitely give it a listen. Thanks for stopping by today. Thanks for your support of my books. And if you haven't yet, you can read the first chapter of my novel here. (Scroll down to the bottom of the page to download the first chapter.) ❤