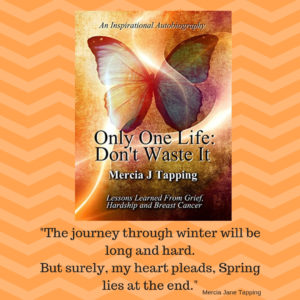 Scrolling through my Facebook feed recently, I came across a post from a writer friend, Mercia J. Tapping.  She posted about her Stories from the Stage appearance, an episode titled New Beginnings. In the episode, she talked about coming back after losing it all–a loving husband, successful business, and her own health. Her inspiring message, one echoed in her autobiography Only One Life: Don't Waste It, demonstrates the resiliency of the human spirit as well as the very human need to connect with and help others. Mercia has been a clinical psychologist, a psychology professor, workshop leader, writer, and dancer–to name a few. Mercia is a warrior woman and as such is being feature in today's Spotlight On post. Welcome, Mercia!
DMS: As you've said in your New Beginnings segment on Stories from the Stage, after you retired, you decided to join Toastmasters. You sat in the room for six months before getting up the courage to speak. Can you explain what led you to Toastmasters and what gave you the courage to try vocal storytelling? 
MJT: Amongst my many past careers, I have been a college professor of psychology and also lead many workshops, so I was used to being in front of a room, although not for many years. After all the losses in my life, a friend suggested that I might enjoy Toastmasters. It was a positive energy activity that took me out socially in mixed company. I had already been told by many close friends as well as on Facebook that I was inspiring and they loved my stories about life. But Toastmasters was intimidating as I saw people speaking incredibly fluently for extended periods of time without any notes. I had never done that.
I pay attention to what my environment is telling me. I don't believe anything in life is a coincidence and when I am bonked hard enough on the head, I finally get the message that the Universe is trying to send me. So now when people come up to me after one of my stories on stage or email me, and tell me how much they love them, I get affirmation that story telling is one of the things I am supposed to be doing while I am still on earth. All my stories, even the comedic ones, have a life lesson embedded in them. It is the wisdom of the elders being passed down to the next generation.
DMS: In Stories from the Stage, as well as your autobiography Only One Life: Don't Waste It, you told your poignant story about loss and love, illness and tenacity. You spoke about going from "the woman who had everything" to the woman who had lost everything–her husband and greatest love, her business, and her health. Is there one piece of advice that you've received that helped you through your life? And is there one piece of advice you've learned from your experiences that you'd like to share with others who might be going through difficult times?
MJT: The best piece of advice I ever got at the beginning of my chemo journey was from a good friend who told me to notice the small miracles that occur in life on a daily basis. Moreover, to write those miracles down, which is how my book [Only One Life: Don't Waste It] became born. So I became far more conscious of my surroundings, whether it was a flower opening in my garden, or the elderly cashier who helped me lift my packages to my car, or the friend who swooped in unannounced to change the cat litter and empty my dishwasher. It taught me that even in a period of intense darkness there are these wonderful chinks of light.
There is also one thing that I said to myself over and over throughout it all, and that is life goes in cycles. Nothing bad lasts forever and I started to dream of what my life could like the other side of my living hell. So that helped me put one weary step in front of the other.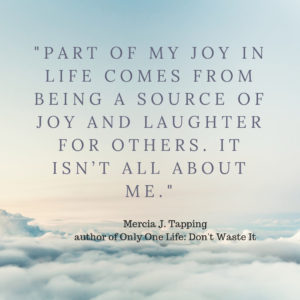 DMS: We've been told that happiness and optimism are choices. But many people find it isn't as easy as throwing hands into the air and shouting, "I'm so darn happy and optimistic." How do you find optimism, especially these days when the world can seem so torn?
MJT: Well I do happen to think optimism and happiness is a choice. I plan my calendar so each day, there is always something in it which will bring a smile to my face. Then when I have my morning coffee I look at my calendar; I contemplate with anticipated pleasure those upcoming daily activities or social interactions with friends. But you need to understand there was a time when joy was just naturally built into my life. Now I have to create it with conscious effort, otherwise it would be all too easy to dwell on everything that I lost and the sadness attached to those memories. Part of my joy in life comes from being a source of joy and laughter for others. It isn't all about me.
DMS: You started dancing after chemo for your cancer. Can you explain what it was about dancing in particular that called to you? And can you tell the readers of this blog a little bit about your favorite dance?
MJT: I had sat miserably on the sidelines at all social occasions, rarely getting up to dance as I was convinced I had no talent. When my husband got brain cancer, we went to a Bar Mitzvah together, and we shuffled around a couple of dances and I was quietly weeping into his chest as I realized that the clock was running out, and we had never learned to danced together. We took four lessons at a local dance studio together, with him in his hiking boots to keep balanced. But a second seizure robbed him of the last of his balance, so I took dancing off the list of things to do before he died. But I have always loved dance and was an avid fan of "Dancing With The Stars."  So it was a message from heaven that told me to find my way back to the dance floor.
Different dances and their music bring forth different emotions inside me. Moving my body to music evokes something very deep inside me. But you ask me which is my favorite dance of all, and I would say the Waltz. I imagine myself as a bird, soaring and swooping in the air, carried by the thermals. I am fortunate to have a professional partner who is 6'4" and who can cover the length of a good sized ballroom in three or four steps, and so we fly together. It is really quite a magical experience.
DMS: This year on my blog, I have been documenting my attempt to do one thing a month that takes me out of my comfort zone. This month, November, I've decided—in part due to your experience—to try ballroom dancing. Is there anything you'd like to try that scares you?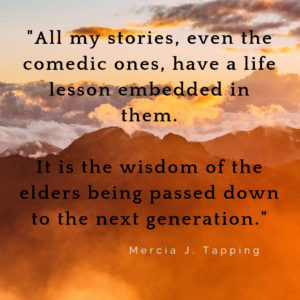 MJT: I have done many things in the past which terrified me. I think going on outward bound or fire walking activities were amongst those that, in retrospect, I ask myself what on earth was I thinking! Yet I know that by pushing myself to conquer fear, I was left more courageous back in my daily life.
There is much in life that still scares me. I am fearful of walking into a room of strangers, of dying alone, or having cancer come back, or never having a partner in life again. Please understand that when those fearful thoughts enter my mind, I have a raft of more positive ones I can pull out to counteract them, but sometimes especially around the holidays, I can wobble with the best of them.
But there aren't any activities per se which I think about consciously that I would like to do, but am too fearful to try them. There may be some new thing I am supposed to do in the future and I trust that it will be revealed to me when the time is right. I will never stop learning and growing. I am not a "veg out in front of the TV" kind of gal!
But right now I have a very full life.  Amongst a myriad of other activities, I play tennis, golf, and of course I dance four to five days a week. I tell stories on the stage every month.  I am also deeply immersed in studying anatomy for the first time in my life, so that by next Spring I will get my national certification as a Pilates teacher. I have been a practitioner of Pilates for eight years and credit it for helping me regain my strength after breast cancer. I want to teach others that disease and aging are not an inevitable downward cycle. I can truthfully say that I have never felt fitter, healthier in decades, and my brain is sharp as a tack!
And do I dream? Sure I do! I dream that one day I will telling a story on the stage, and afterwards some man will walk up to me and tell me that I was mesmerizing, and can he take me out to dinner? The next love of my life will find me. Meanwhile, my heart belongs to the world.
Thank you, Mercia! What a wonderful, romantic image to end with. Perfect for a blog run by a romance writer!