Although the global news of late is filled with disheartening images, there are some positive and lasting things happening in the world. I'd like to spotlight a wonderful woman making the world better for all of us.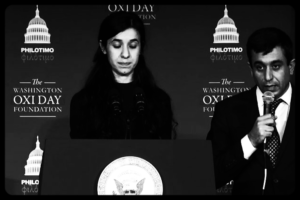 A few years ago, when I first came up with the idea of a League of Warrior Women who travel the world righting wrongs against women, I began to do research. My research led me to a woman who became a great inspiration to me. Her name is Nadia Murad. Nadia escaped ISIS/Daesh and being enslaved for sex.
After she escaped this brutal ordeal, she worked tirelessly to bring attention to the genocide of her people and the use of rape as a weapon. If you've ever visited the Activist page of my website, you've probably read about her, but here is the recap:
Nadia Murad's Yazidi village in Iraq was attacked by ISIS in 2014. Her family, including her six brothers, were murdered. She was taken captive and held as a sex-slave. After Nadia escaped she joined Yazda.org an organization that works, in part, to heal and reintegrate women sex-trafficked by ISIS in the Middle East. It also works to halt the genocide, seek justice through legal action, and mark this horrible tragedy for history of the Yazidi people, a religious minority in Iraq.
In addition to Nadia's work with Yazda.org, she went on to found Nadia's Initiative which, through the "The Sinjar Action Fund." (SAF), seeks to redevelop the Sinjar region so that the Yazidi can return home. According to her website, "The first priorities…include a commitment to de-mining, which is already underway. The Sinjar Action Fund is open to all nation-states, non-governmental organizations, and individuals… willing to contribute."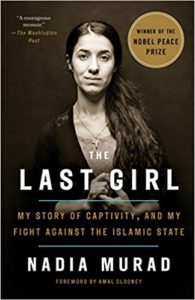 Nadia wrote a compelling and startling book about the use of rape as a weapon titled, "The Last Girl: My Story of Captivity and My Fight Against the Islamic State." It is honest. It is brutal. All of this and now she's won a Nobel Peace Prize. Nadia Murad along with Dr. Denis Mukwege were awarded the Nobel Peach Prize for their tireless efforts to bring attention to wartime sexual violence.
Here is part of Nadia's response to being honored with the award as quoted by the New York Times, "Persecution of minorities must end. Sexual violence against women must never be tolerated. We must remain committed to rebuilding communities ravaged by genocide. We must remain steadfast in helping refugees return home, or be given safe harbour elsewhere."
If you'd like to learn more about this remarkable woman, there is an excellent documentary about her life title, On Her Shoulders.