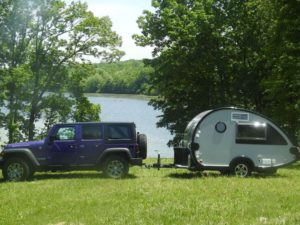 As far as being out of my comfort zone, I think July was my most active month yet! Not only did I travel across the country in my T@B, making a stop in Canada, eh, but I vacationed in Montana where I went white water rafting. After that I headed to NYC and took part in the Thrillerfest Debut Author Breakfast. That was scary. International Thriller Writers (ITW) has a great program where they allow debut authors to introduce themselves and their work. Great exposure, but a little intimidating being on a raised platform, in front of a room full of famous authors, agents, and movie producers. And, here's the thing, I had nothing prepared. Sure, I'd worked on a speech, but everything sounded wrong. Guess that's the thing about going out of your comfort zone, it's not easy and doesn't always feel comfortable.
In the end, I settled for winging it. It turned out fine–even had someone inquire about the movie rights for my series. Despite the butterflies, or maybe because of them, I had a wonderful time. Later that night, I listened to G.R.R.M accept the 2018 ThrillerMaster. He gave a great speech about Gardner Dozois, about bridging the boundaries between genres, and about all the wonderful work Gardner made toward that goal. During the speech, his mic cut out. It felt…magical, like Gardner making an appearance. I so wanted to tell Mr. Martin that, talk to him about his friend–who I'd met during my science fiction days. Later, I was given the chance to speak with Mr. Martin. I hesitated. My husband egged me on, so I approached Mr. Martin. George asked me to sit down. No kidding. Definitely out of my comfort zone. But he was exceedingly kind.
After Thrillerfest, I flew out to Denver and to the Romance Writers of America conference. I took part in a book signing and cheered a wonderful speech by Suzanne Brockman. (Her speech starts around 56.31) Things are changing for the better at RWA, and I'm proud to be part of an organization accepting the challenge to do better. A challenge I take very personally. I intend to do better to be more inclusive in my work and to read more widely. Below are the pictures that coincide with getting out into the world. What was the scariest thing you've done this month?