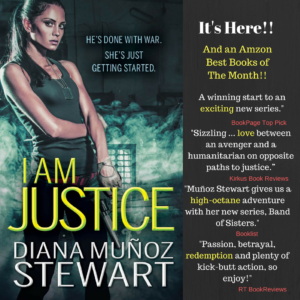 If you know anything about authors, and I'm betting you do, you know that we work hard to spread the word about our novels. Since I Am Justice is my first novel in the Band of Sisters series, I'm working hard and learning as I go. I've had some wonderful and shocking insights along the way, but every once in a while you get a review that feels like you shook hands with someone. You know, like you connected. This review by Marlene Harris on Reading Reality was a nice Tuesday-that-feels-like-Monday-after-the-holiday pick-me-up. I'm sharing the beginning, so that you go to her site and read the rest. And also, because you can enter to win the giveaway on her site!
---
Think of this story as a big message about paying it forward – backed up with bullets. Or as a 21st century league-of-extraordinary-but-not-in-the-least-bit-gentle women. Or perhaps as the story of a group of contemporary Amazons who specialize in giving people who abuse women and girls every single thing that they deserve – with extreme prejudice.
The Parish family has a secret. Or is a secret. Actually it's a little bit of both. On the surface it looks like Mukta Parish runs an elite boarding school for girls. She has also adopted a number of young girls from heartbreaking circumstances. And both of those things are true.
But it is also a front. The Parish family rescues girls and women being abused and trafficked, just as Mukta herself was once abused. The foundation she founded continues to rescue girls and women in those horrible circumstances, all over the world. And some of those girls she adopts into her family – and trains them to be covert operators and assassins, who go in and rescue women in countries and situations where official authorities won't go – or don't care to even try.
Justice Parish is one of her daughters. But someone in Justice's family has betrayed her, so she's sent, undercover, with a charitable organization that can get her where she needs to be without relying on her family's resources. Read more here.