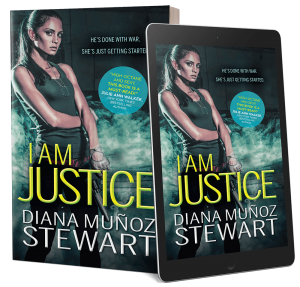 It's here!! I Am Justice released today!! Woohoo! Last night I could hardly sleep. I stayed up until midnight to mark the moment when I officially became a published author. It's been a long, hard, and rewarding journey. There were days when I was sure this would never happen, but it has. And now my kick-ass book is out in the world making trouble.
I am so freakin' excited!! Plus, I found out late last night that Amazon picked I Am Justice as a Best Books of the Month!! Great reviews like those from Publishers Wkly, Romantic Times, and Kirkus Reviews. It's a Bookpage Top Pick and now this!! I'm blown away!!
And I'm celebrating at the beach! I'm at a wonderful writers' retreat with a group of fabulous and supportive women. And to share this celebration with you, my lovelies, I am giving away a free copy of my book and a $25 Amazon gift card. That's right, why should I be the only person to feel blessed and lucky today? So, if you'd like to win a copy of my book and even a couple of Amazon dollars, comment on this post.
If you're wondering an emoji counts as a comment. I don't exclude shy people. So emoji comment or comment-comment away! And welcome to the world I Am Justice! So far the world seems like a better place with you in it.