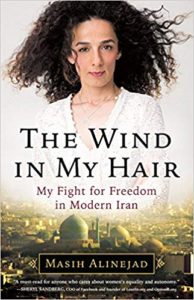 Imagine that one day you're walking down the street and someone starts to berate and hit you because you aren't wearing anything. You'd be pretty upset. And wondering where your clothes were. But wait. I meant, they berate and hit you because you aren't  wearing anything over your hair.
This can and does happen to Iranian women.
Since 1979's Islamic Revolution, Iranian women as young as seven have been legally forced to wear a hijab, a headscarf, in public and also to have arms and legs covered. Before this dramatic change, women wore western-style clothes – including mini-skirts.
Today, if women aren't "properly" covered, they could be ostracized, beaten, arrested by morality police, and in some cases forced to flee the country.  It's kind of a real-life The Handmaid's Tale.
Despite all of these threats, women are taking to the streets, taking off their hijabs, and taking a stand in order to feel the wind in their hair.
The movement started around May, 2014. An Iranian activist Masih Alinejad, author of The Wind In My Hair: My Fight for Freedom in Modern Iran – began a social media campaign called My Stealthy Freedom (#mystealthyfreedom), protesting the dress code laws. She wanted women to have the choice of wearing or not wearing a hijab. 
As Masih herself said in this NBCnews.com article, Iranian movement 'White Wednesdays' finds solidarity with U.S. Women's March, "Iranian women who suffer inequality on many levels, with the hijab laws being one of the most visible windows into the ways that women are oppressed there."
From her self-imposed exile in the States, Masih used My Stealthy Freedom to organize a protest called White Wednesday (#whitewednesdays), in which women took off the hijab and protested in the streets of Iran.
In December of 2017, a thirty-one-year-old woman and mother of one, Vida Movahed joined this movement. She climbed onto a utility box located on Enghelab Street in Tehran. She removed her white hijab – Iran only allows modest headscarf colors like white, brown, and black – attached it to a stick and waved it around. She was photographed. She was arrested.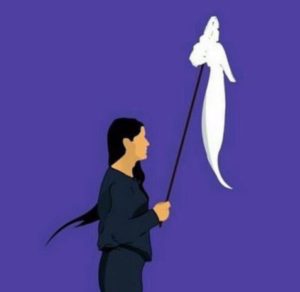 Other women began repeating her "crime", taking photos, posting them online in Masih's online groups. Many of them were also arrested. One woman was pepper sprayed in the face by a man on the street. Another woman was ordered imprisoned for eight years. And in the case of Shaparak Shajarizadeh was forced to flee the country without her husband and son. This BBCNews video tells her story.
Today there are many brave women who dare to go out in public and protest, taking photos and videos of themselves and posting them online under #whitewednesday and #mystealthyfreedom and #girlsofrevolutionstreet, creating a breathless archive of the human spirit's unquenchable urge for freedom.
Because, of course, this isn't just about the hijab. It's about the government forcing submission and control on women. In Iran, women are only allowed to show their hands, face, and feet in public. They are forbidden to touch or dance with a man outside their family.
These brave women are continuing a long tradition of brave women in Iran.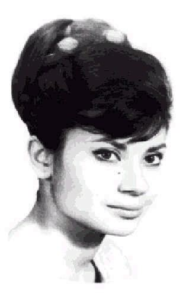 Recently Masih posted on Twitter the photo I've inserted on the left of Homa Darabi. The caption read:
Her name is #HomaDarabi, an Iranian doctor. 25 years ago today she immolated herself to death in a public square in Tehran in reaction to the closure of her clinic because she refused to wear a chador. Her last words were: "Death to Tyranny! Long live freedom! Long live Iran!"
If you'd like to support our sisters' global fight for freedom, make sure to visit their Facebook and Twitter pages, look for and repost the #whitewednesday, #mystealthyfreedom, and #girlsofrevolutionstreet tagged posts, give a show of support, give encouragement. 
This post has been updated with the video below. Please watch and follow @AlinejadMasih
Saba Kord Afshari, 20, has been sentenced to 24 years in prison by Iran for removing her hijab in public. Her mother was also arrested.

We speak with @AlinejadMasih, activist behind the #WhiteWednesdays Iranian women's rights campaign. pic.twitter.com/nXMeEEZYFD

— Natasha Fatah (@NatashaFatah) September 1, 2019
*Want to read more stories about women doing good all over the world and have a chance to win books all year long? Sign up for The Shady Lady Report.