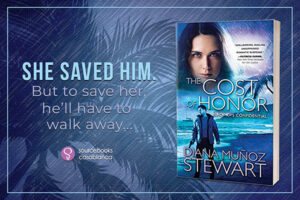 I'm so excited for November. Not just because I love this month, but because the third and final book in my Black Ops Confidential series, THE COST OF HONOR, is coming out on November 26th. If you're not aware, I'm currently running a Countdown to Release Day giveaway for all of my newsletter subscribers. So every day I pick two books to giveaway to someone from my newsletter. In addition, I'm also giving away a $100 Amazon gift card. To enter this contest, people need only share one of my giveaway posts. The more you share, the more times you are entered!
And now, I'm happy to share with you the trailer for THE COST OF HONOR, created by César, my wonderful and talented video designer in Venezuela. He has done such a great job with each of these trailers. I know you'll love this one!
SPOILER ALERT! IF YOU HAVEN'T READ BOOK 2, THE PRICE OF GRACE, DON'T WATCH THIS VIDEO!
Enjoy the trailer!