Description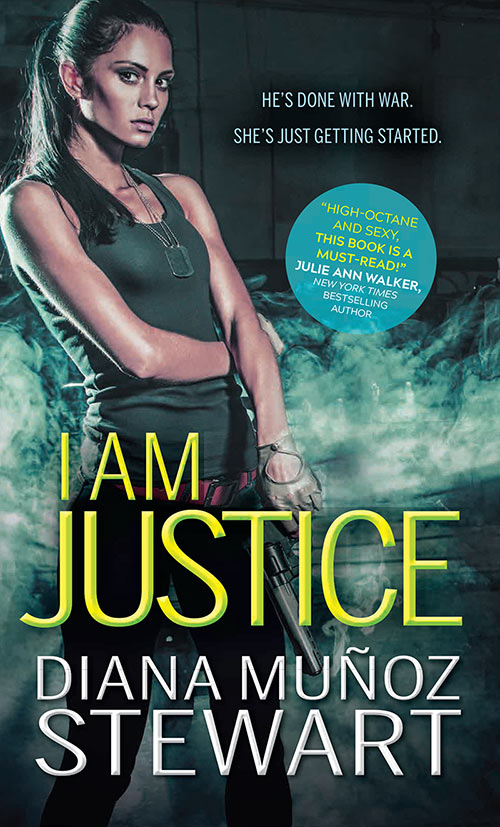 Justice Parish was rescued from a brutal childhood and adopted into a loving family and their not-so-loving covert sisterhood of vigilantes. Trained as a skilled assassin, Justice vows to protect and avenge others who haven't escaped the cruel hands of injustice. Her next target: a sex-trafficking ring in the war-torn Middle East. She just needs the perfect cover to get close and take them down…
After years of witnessing the destructive nature of war, Sandesh Ross leaves the Special Forces and puts his heart and soul into founding a humanitarian group. Saving the world isn't cheap, and when Justice walks through his door, claiming to be a PR agent who can help with donors, he thinks his prayers are answered. They're both too busy saving the world to get involved with each other. But they might not be able to help themselves…
Praise for I Am Justice (Black Ops Confidential: Book One)
"Fast-paced and edgy, high-octane and sexy, I Am Justice is a must-read!"―JULIE ANN WALKER, New York Times and USA Today bestselling author of the Black Knights Inc. series
"Diana Muñoz Stewart explodes onto the scene with I Am Justice. It's witty, dangerous, fun, and smoking hot―the perfect can't-put-it-down read if you love badass women, honorable men, scary bad guys, non-stop action and steam heat."―CINDY DEES, New York Times and USA Today bestselling author
"Revenge is best served cold, but Justice serves it scorching hot. Spellbinding, sizzling. Takes your breath away. Unsurpassed romantic suspense."―PATRICIA GUSSIN, New York Times bestselling author of Come Home
"A tense, fiery writing style that drags you in and won't let go." ―PAIGE TYLER, New York Times andUSA Today bestselling author of the SWAT series.
---
Trade Reviews
"Hang on tight! This story features passion, betrayal, redemption and plenty of kick-butt action, so enjoy!" RT Book Reviews
"Muñoz Stewart gives us a high-octane adventure with her new series, Band of Sisters." BookList
"An intriguing premise, a cast of strong characters unwilling to back down and black-hearted, deserve-to-die villains make I Am Justice a winning start to an exciting new series." BookPage TOP PICK
"Sizzling physical encounters create trust, understanding, and eventually love between an avenger and a humanitarian on opposite paths to justice." Kirkus Book Reviews
"In this gritty launch of the romantic suspense series, Stewart plays adeptly with the reader's emotions." Publishers Weekly
"Justice is just awesome, there are no other words to describe her. I was completely taken in by the story and could not stop reading. Diana Munoz Stewart has made her mark and I can't wait to read the next book in the series." – Night Owl Reviews TOP PICK
Excerpt
Apparently, camo couldn't hide you from everything. Justice yanked free of another thorn in the brush-choked woods. She squatted at the tree line and focused her night vision goggles on the rear of the bleak home turned bleaker business. The battered, white-shingled two-story sat on the poorest edge of a rural community in Pennsylvania.
Rural as hell. They didn't even have their own police force and had to rely on Staties.
She snapped pictures of the gravel-and-stone backyard and the rusty propane tank propped on wooden legs like a miniature submarine dry-docked after fifty years at sea.
The whole 'massage parlor' was dingy, dirty, and depressing.
Given the choice, most people steered well clear. Not Justice. She wanted inside. Planned and plotted on it. Call it a childhood dream, making good on her vow. Call it redemption, making it up to Hope. Call it revenge, making them pay for Hope's death.
It would help if Momma's oft-heard mantra—patience…reconnaissance always comes first—didn't keep popping up like a jack-in-the-box to wave a scolding, white-gloved finger at her.
Momma. What a fun sucker.
A single light, green through her goggles, shone over the steel back door. She zoomed in on it as her breath fanned against the midnight air. Her camera click, click, clicked. No exterior handle. They'd have to pop it. And no security cameras. Figures. See no evil. Hear no evil. Or at least, record no evil.
She snapped photos of barred and blackened windows and a rusty fire escape that led up to a metal-gated door secured with thick, elephant-proof chains.
These guys weren't taking any chances. Which meant more surveillance and late nights for her. Unlike her other siblings, she always got saddled with recon for the family's underground railroad.
Not for long though. After two years of planning, the mission as dear to her as her own heartbeat—breaking up a human trafficking ring—was only a few weeks away. Yeehaw! She was going to bust heads.
Her earpiece clicked, and her brother's voice came through. "Justice, youse…uh, you in position yet?"
---
Want more?