Description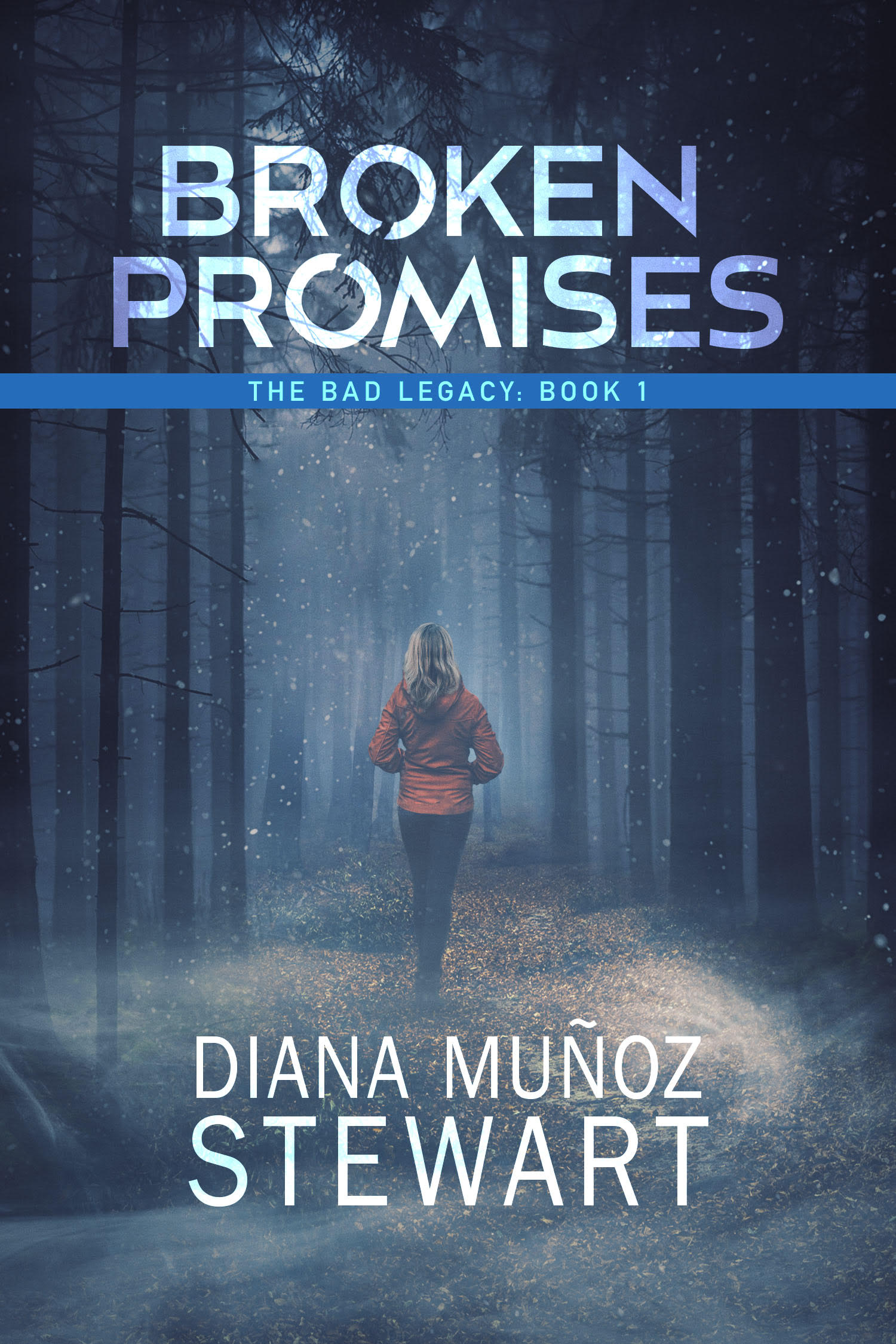 Eight years have passed.
Now, what tore them apart takes a back seat to keeping her alive.
Broken Promises (Book 1 The Bad Legacy) 

Felicity Shields spent a lifetime hiding from her notorious mother's dark shadow. But when a serial killer's glaring spotlight lands on her, there's no place to hide. Desperate, she accepts help from private security expert and the sexiest man she's ever met, Brooks Delgado. He also happens to be her ex-fiancee.
Brooks Delgado will do anything to keep Felicity safe and stop the killer. And though he knows she's only accepting his help because she's got nowhere else to turn, he also knows he's the best man for the job. The man whose heart she broke. The man she promised to never let go. The man who still loves her.
Another smart, sexy thriller by #1 Amazon bestselling author Diana Munoz Stewart
Praise for Broken Promises (Bad Legacy Book 1)
"Fast-paced and edgy, high-octane and sexy, I Am Justice is a must-read!"―JULIE ANN WALKER, New York Times and USA Today bestselling author of the Black Knights Inc. series for I AM JUSTICE
"In this gritty launch of the romantic suspense series, Stewart plays adeptly with the reader's emotions." Publishers Weekly for I AM JUSTICE
"Stewart's talent shines in this suspenseful story." Publishers Weekly for THE PRICE OF GRACE
"Layered personalities, shifting motivations, and a smart, twisty plot push this thrilling romantic suspense series into high gear." Kirkus Reviews for THE PRICE OF GRACE
"THE PRICE OF GRACE is Diane Munoz Stewart at her best. This is action-packed, thought-provoking, sexy, with a lot of twists and turns, and at times just fun." Fresh Fiction
"Thrilling, sizzling, and full of adventure." American Library Association-Booklist for THE COST OF HONOR
"…All the fast-paced suspense fans will expect." Publishers Weekly for THE COST OF HONOR
Excerpt
CHAPTER ONE
Gas pedal to the floor, Felicity Shields raced along a dry dirt road lined with sharp shrubs and twisted trees. Red dust ballooned over the hood of her VW Golf.
Her hands gripped the steering wheel. Her eyes focused on the two-story adobe house whose colorful inlaid tiles seemed to shiver through the hazy air. Backdropped as it was by New Mexico's looming Sangre de Cristos mountains, the huge home appeared small and isolated.
Her phone's ring blared through her car speakers. With a glance to the car's touchscreen, she accepted call. "Hey, Mae."
"Oh, good, I caught you. Tell your mom I'll be watching her speech online from my bed. This pregnancy is a killer. When do you take off?"
Fee wiped sweat from her forehead. "Slight glitch. We missed our flight."
There was an ominous pause on Mae's end. "What happened?"
Fee swallowed. "Mom was supposed to pick me up. She never showed. I called. She didn't answer. I'm on my way to her place now."
Another pause, this one punctuated by heavy breaths that seemed to reflect Fee's own budding panic. "Your mom always answers when you…" The connection cut out and back again. "She once picked up your call during a CNN interview."
So many people had thought that call had been staged to show Dorothy as a likeable character during her trial. The truth was she'd called Mom in a blind panic after having destroyed things with the love of her life, Brooks Delgado. In her desperation, she'd forgotten Mom had the interview. "Look…"
"You're cutting out."
Of course, she was. The service out here sucked. "I'm almost there."
"Maybe you should call Liam? He does work for the Santa Fe PD."
Ugh. She'd intended to tell Mae all about Detective McCheater at the conference, but now Mae was on bedrest and couldn't make the conference. A turn of her wheel and she bumped up and into the brick lined driveway. "I'm here. I'll call you back in ten minutes."
"I'm… five minutes…. I call the police."
She wanted to tell her pregnant friend to chill, not to worry, but that would be a lie. Mom was older now. In great shape, but what if… "Give me at least ten minutes"
Mae didn't answer. She fished her cell from the cup holder and glanced at the screen. She'd lost connection. Great. If she didn't hurry, Mae was going to call the police. She reached for the garage remote. Bay one didn't open. She hit the other two buttons. Nothing.
Relief flooded her. This was why mom wasn't answering. Something had happened to the power, which would cut off the cell extender that allowed Mom to make and receive calls. And, of course, the generator hadn't kicked on.
She'd told mom she was running out of propane. For such a brilliant woman, Dorothy "Never Surrender" Shields was often absent minded. Time to pressure Mom to get over Claire retiring and pick a new personal assistant.
Slipping her phone into the slit-pocket of her yoga capri's, she flung open the door and climbed out of the car. One hundred plus degrees of late summer resistance slammed into her. A dry wind blew hair into her face. She pulled a blond strand from her sunglasses and jogged up the slate stairs. The toes of her flip-flops swept against the slabs. The backs thwacked against her heels. Her keys jingled in her hands.
At the last step, she noticed one of Mom's planters had been overturned. Inserting her key into the lock, she bent and righted the cracked pot. She cupped the dirt, deposited it back inside, and dusted the soil from her hands.
With a turn of the key, she pushed the bronzed handle. Her hand rebounded. Her heart began to beat faster. For no reason, because this was so like Mom. The woman had once been protected by Secret Service and now she hadn't even locked her front door.
Feeling a tinge of annoyance, she unlocked the door and readied herself to give her mom a piece of her mind. And then they'd eat breakfast, because she was starving. She'd have to arrange new flights later. Thankfully, they had some time. She had some afternoon meetings that she'd miss, but Mom wasn't speaking until tomorrow.
Backhanding the front door closed, she tossed her keys into the metal bowl atop the foyer table. The swish and clink echoed down the wide, open stairwell. Had she heard something downstairs?